15,000 stand up to racism and fascism on UN Anti Racism Day!
No to Islamophobia #MuslimLivesMatter
From Ferguson to London #BlackLivesMatter
Stamp out out Anti-Semitism
Immigrants are Welcome Here
Yes to Diversity
Last Saturday, 15,000 people marched across Britain in demonstration in London, Glasgow and Cardiff to say no to racism, Islamophobia, Anti-Semitism and Fascism. The demos saw a vibrant, diverse crowd from all walks of life and heard important speeches from parliamentarians, trade unionists, LGBT groups, student activists and others who joined people from all walks of life in what was the biggest anti-racist demonstration of the year! As part of an international day of action in cities around the world, tens of thousands marched worldwide to say no to racism!
Here are some photos of the event.
Trafalgar Square says #blacklivesmatter 'Hands Up Don't Shoot' – from London to Ferguson:
No Justice, No Peace! No to Deaths in Police Custody!
Marcia Rigg, (Co-chair United Friends and Families UFFC & Sister of Sean Rigg) speaks, together with Carol Duggan (Mark Duggan Family Campaign) Stephanie Lightfoot-Bennett (Co-Chair UFFC & Sister of Leon Patterson) and Janet Alder (Christopher Alder Justice Campaign):
Placards from the Migrant Block: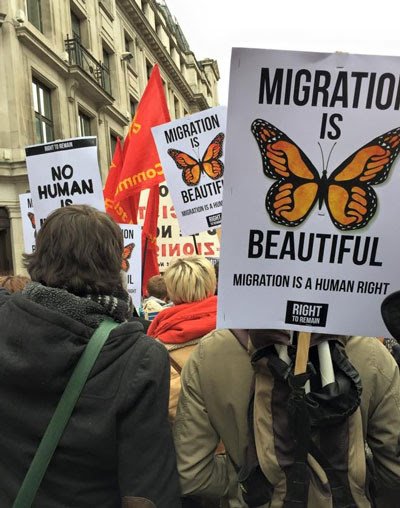 Diane Abbott MP addresses the rally:
Talha Ahmad MCB National Council, Christine Blower NUT General Secretary, Natalie Bennett Green Party Leader, George Galloway MP and Steve Hart UAF Chair were among the speakers:
Migrants make the NHS!: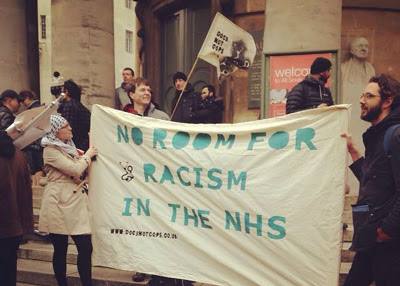 Owen Jones (writer & journalist) addresses a packed Trafalgar Square: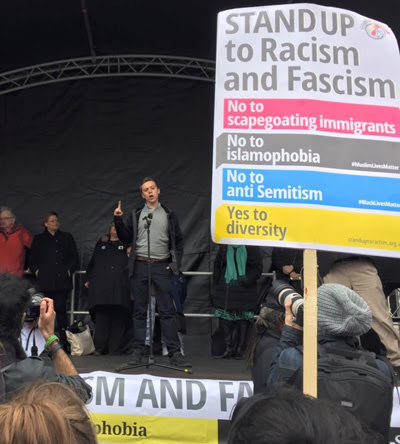 Many demonstrators brought home-made placards:
Billy Hayes, General Secretary of CWU and Wilf Sullivan, TUC Race Relations Officer at the march: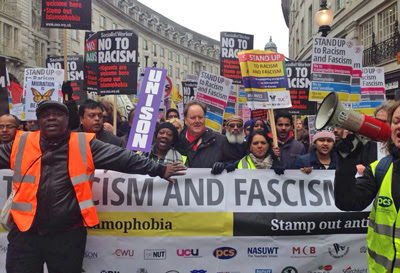 Over 40 colleges took part in the student block on the demo:
Lesbians and Gays Support the Miners – depicted in the BAFTA award-winning film Pride:
A young supporter in Glasgow:
2,500 people came out in Glasgow:
Vibrant diverse demo marches through Cardiff:
Other speakers included at the London rally included:
• Jerry Dammers Composer 'Free Nelson Mandela' / Founding member Artists Against Apartheid • Jeremy Corbyn MP • Marina Prentoulis Syriza London / Senior Lecturer at the University of East Anglia • Diana Holland Assistant General Secretary for Equalities, Unite the Union • Gloria Mills UNISON • Ian Lawrence General Secretary NAPO • Jennifer Moses National Official (Equality and Training), NASUWT • Zita Holbourne PCS NEC • Colette Levy Hidden Child from Vichy France • Bruce Kent VP Pax Christi • Ava Vidal Comedian and Writer • Maurice Wren Chief executive, Refugee Council • Omer El Hamdoon President Muslim Association of Britain • Maz Saleem Daughter of the late Mohammed Saleem • Malia Bouattia NUS Black Students' Officer • Piers Telemaque NUS VP Society and Citizenship • Shreya Paudel NUS International Students' Officer • Tommy Tomescu Alliance Against Romanian and Bulgarian Discrimination  • Lindsey German Convenor, Stop the War Coalition • Dipu Ahad Newcastle Unites • Lee Jasper Black Activists Rising Against Cuts • Aaron Kiely NUS NEC • Shakira Martin President Lewisham College • Gerry Gable Searchlight • Saminda Kharay Friends of the Earth • Maddy Kirkman NUS Disabled Students Officer • Sahaya James Student Assembly Against Austerity • Paul Mackney Greece Solidarity Campaign • Jo Cardwell Stand up to UKIP • Weyman Bennett and Sabby Dhalu Joint National Secretaries, Unite Against Fascism
We are the majority and we will stand up to racism!
Stand up to racism will continue to be active over the year ahead: Keep in touch!
Please sign up  for email updates, and follow us on Twitter and Facebook.
#standuptoracism #m21
standuptoracism.org.uk
Facebook: Stand Up To Racism
Twitter: @AntiRacismDay