Saturday's conference was powerful show of solidarity and determination in the wake of a historic rise in racism.
As well as hearing from Shadow Home Secretary Diane Abbott & other leading figures, over 1300 people heard first hand accounts of the horrific, avoidable disaster at Grenfell and its aftermath, people those whose family members died in police custody, those who have born the brunt of the rise in Islamophobic hate crime, and EU nationals whose rights are being threatened by the British government.
The need to combat the global rise of racism & the far right was addressed, with leading anti-fascists from Germany, Austria and Greece reporting from the front-line and author David Neiwert analysing the new far-right mobilisations in the US emboldened by Trump's Islamophobia and racism.
The clear and powerful message from the conference was that when we bring all these struggles together and fight as one, we can be more effective than we could possibly imagine.
Stand Up To Racism is proud to be the organisation that seeks to do that, but we can only do it with your support. To become a supporter or make a donation, please click on the link below.
Click below to watch the 1st plenary featuring Catherine West MP, Claude Moraes MEP, David Rosenberg (Jewish Socialist Group), Talha Ahmad (Muslim Council of Britain), Kate Hudson (CND), plus reports from the front line of the anti-fascist struggle from Austria, Germany and Greece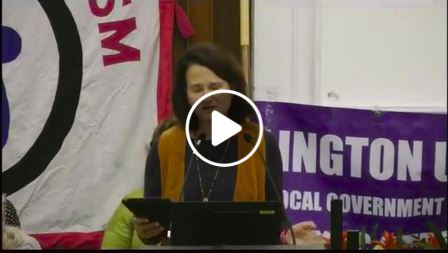 Click below to watch the 2nd Plenary featuring Diane Abbott, Kate Osamor, author David Neiwert, Kevin Courtney, Roger Mckenzie, Harun Rashid Khan, Shahrar Ali, Salma Yaqoob, Weyman Bennett + More